Penthouses typically command the greatest rental income due to their views however their increased exposure, combined with leaking old single pane windows, can lead to significant tenant discomfort; particularly in the cooler months.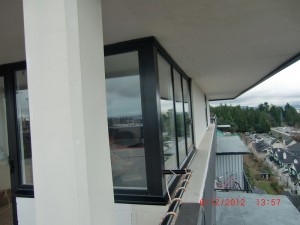 Fortunately, Penthouses can offer an ideal starting point for those considering an apartment window replacement project for their building. Their setback typically doesn't impact the look of the building facade and overall makes window replacement  a lot easier.
Even in areas not easily accessible,  the 350 Series easily couples together meaning much of the installation work can be performed from the inside.
The  350 Series'  profile is the same depth (3.5 inches)  for both the patio door and casement window frame;  providing a uniform look.  This compact profile also helps minimize the amount of cutting involved in the retrofit installation process.
In this project the client chose to go with a black exterior and white interior; providing bold modern styling to the exterior with a clean, crisp finish on the inside.
A1 Windows offers complete apartment window replacement packages in vinyl and aluminum for all building types.  For a free estimate for your building call 604-777-8000 or visit www.a1windows.ca
<a href="http://www.hypersmash.com">HyperSmash</a>