When replacing heritage windows homeowners often find modern windows lack the features and styling that is found in heritage homes.  Preserving character and complementing the existing architecture can be a challenge.
Heritage BC offers a few suggestions (http://www.heritagebc.ca/resources/guides-tips-1/upgrading-windows) to preserve the heritage styling through regular maintenance and repairs of existing frames and sashes. Eventually however,  homeowners often consider full-on replacement.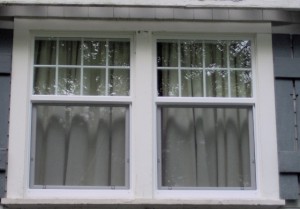 Vinyl windows command a huge percentage of the replacement window market for good reason.  For some, they might not be the first choice for heritage appeal but in terms of best overall value, they are hard to beat.  When replacing heritage windows with vinyl replacement windows there are a few things you should consider.
Muntin bars divide a single window sash or casement into a grid system of small panes of glass, called "lights" or "lites". When the lites are separate the individual panes of glass are referred to as True-Divided- Lites (TDL).   Long ago this was a practical solution in keeping the overall size of the glass small.  To replicate this look today consider adding Simulated Divided Lite (SDL) bars or muntin bars.
Muntin bars internal to the glass can either be contoured or smooth.  They offer the  benefit of easy cleaning but lack the detail to make the window truly look like it has individual panes of glass.  Consider this option for windows that are not easily accessible and/or viewed from a distance.
SDL bars mounted to the exterior of the glass provide a more substantial look and better simulate true divided light. When viewed on an angle however these external bars can reveal that they are simply applied to the surface of the glass by allowing light to come through.  For those wanting to take it a step further, muntin bars that look like sealed unit spacer bars can be used in combination with SDL bars to truly get the look of individual panes of glass, regardless of the angle the window is viewed at.
The method of installation can also help preserve that heritage look. While complete frame removal is often preferred, insert window installation makes sense when the old window sill and frame are square, solid and in good condition. In this method the sash is removed and replaced with a new window unit; preserving the existing frame and trim details.
In buildings where complete replacement can't be justified we recommend installing high quality storm windows as an economical alternative as they can still offer energy savings and protection from drafts.
A1 Windows sales consultants are well versed in all the options available when replacing heritage windows.  We offer complete window replacement packages in vinyl and aluminum for all building types.  For a free estimate call 604-777-8000 or visit a1windows.ca